Description
Information
Downloads (2)
Contributions (1)
The classic cookie cutter. You just cut out the shape of the motif and then you can set your creativity free with decorating. In our range you can find cookie cutter shapes from A like apple to Z like zebra. Enjoy baking and decorating!
The cookie cutters are made of high-grade stainless steel, dishwasher-proof and food-safe. The cutters are spot-welded. You can identify stainless steel due to the polished and shiny surface. This Cookie cutters can not only be used for cutting out dough, but also in the decorative and creative do-it-yourself and hobby field for modelling clay and salt dough or for felt work and candle and soap manufactury.
In display package for hanging up
Material

stainless steel

Size

5,5–9 cm

Surface

glossy

VE

5
Directions for use
Tipp:
- Diese Ausstechformen eignen sich auch zum Ausstechen von Marzipan und Rollfondant.
- Auf das gebackene Plätzchen den ausgestochenen Rollfondant mit etwas Rosenwasser anbringen und nach Belieben mit Speisefarben-Stiften bemalen und/oder mit Speisefarben-Pulver farbige Akzente setzen.
- Verzieren Sie die Plätzchen mit der Icing-Spritzglasur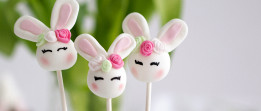 Delight your guests with Easter specialities such as paschal lambs or lop-eared Easter bunnies – with our Easter-themed cutters and moulds!