EN Mocha Muffins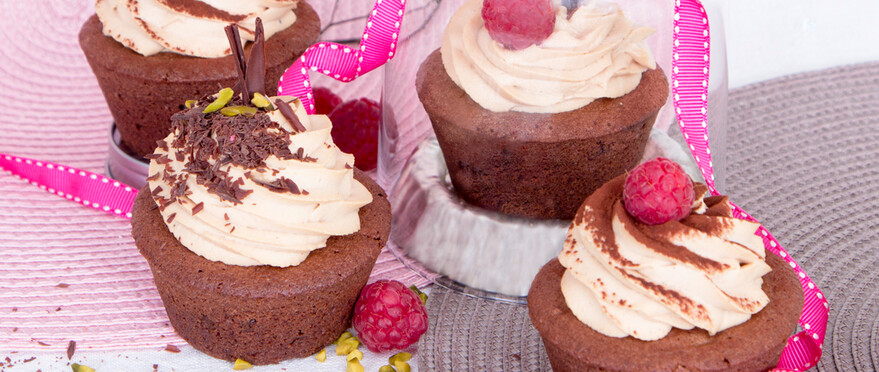 Ingredients for the batter:
Quantity
Ingredient
230 g
butter
180 g
brown sugar
some
lemon zest
1 pinch of
salt
4
eggs
100 g
melted chocolate
250 g
flour
20 g
cocoa
1 tsp.
baking powder
Ingredients for the topping:
Quantity
Ingredient
250 g
whipping cream
1/2 package
STÄDTER Whipped Cream Fix neutral
50 ml
water
2 tsp.
instant coffee
150 g
mascarpone
Preparation
Working time: approx. 35 min. Baking time: approx. 25 min.

Preparing the batter:
Mix the butter with the brown sugar, lemon zest and salt until slightly frothy. Stir in the eggs little by little. Add the melted chocolate. Mix the flour, cocoa and baking powder and stir everything together briefly. Evenly distribute the batter in the greased muffin baking tin and bake in the preheated oven. After baking leave the muffins to cool completely.
Baking time: Bake it at 180 °C top/bottom heat (165 °C fan) for approx. 25 minutes.
Preparing the topping:
Beat the whipping cream until stiff. Stir the mascarpone separately before adding it to the whipped cream. Mix the water with the instant coffee and the Whipped Cream Fix. Add to the the whipped cream/mascarpone. Fill a piping bag with the cream and use it to decorate the muffins.
Recipe Download DE (PDF)
Recipe Download EN (PDF)