Der Kuchenbäcker und
unsere Cake Lollie Backform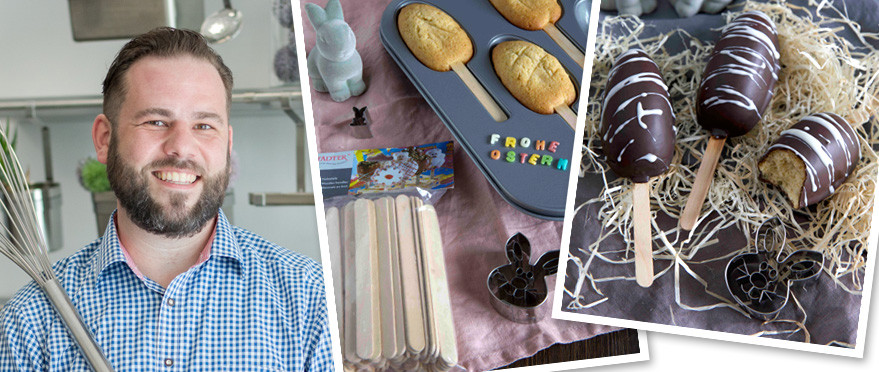 STÄDTER Backbotschafter der ersten Stunde
Tobias Müller – alias Der Kuchenbäcker – ist STÄDTER Backbotschafter der ersten Stunde. Die Leidenschaft fürs Backen wurde bei ihm als kleiner Junge geweckt. Schon als Kind hat er seiner Großmutter in der Küche beim Backen geholfen und die Teigschüssel ausgeschleckt. Gerne backt er für Freunde und Familie zu Geburtstagen oder anderen feierlichen Anlässen. So entstand auch die Idee für seinen Blog "DerKuchenbäcker", weil er immer öfter nach seinen Rezepten gefragt wurde. Irgendwann schlug jemand vor, er solle einfach einen Blog schreiben, dann könne er die wissbegierigen Schleckermäuler darauf verweisen. Gesagt, getan. Inzwischen führt er nicht nur den Blog, sondern hat auch 3 erfolgreiche Backbücher geschrieben.
Die Backform "Cake Lollies" hat mich überzeugt
Ich liebe "Handgebäck". Der Begriff enstand während ich mein erstes Backbuch "Bake and the City" schrieb. Es ist eine kulinarische Rundreise durch die Backöfen Europas. Und wer reist, hat immer Handgepäck dabei. Aber auch Handgebäck. Die Kuchen Lollies am Stiel sind das perfekte Handgebäck, deshalb fiel meine Wahl genau auf diese Form.
Die Antihaftbeschichtung ist genial. Man braucht sie nur hauchdünn einzufetten, wenn überhaupt, das Gebäck löst sich von selbst und die Reinigung ist im Handumdrehen erledigt. Durch die hervorragende Wärmeverteilung wird das Backwerk perfekt gebräunt. Doch die Hauptsache ist, dass das Trendgebäck bei allen sehr gut ankommt und man die Cake Lollies häufiger auf unseren Sweet Tables zum Vernaschen finden wird.
Osterhasen-Lollies mit Marzipan
Ich habe kleine Marzipan Kuchen Lollis damit gebacken, die ich zur Osterzeit mit Öhrchen aus Esspapier in kleine Osterhasen verwandelt habe.
Das Rezept gibt es hier: Marzipan Cake Lollies