Description
Information
Downloads (2)
Contributions (2)
Individually adjust the neck strap to a comfortable size. Three large and one small pockets provide ample space for your baking accessories.
The apron is made of flame-retardant polyester and can be cleaned in the washing machine at 30°C delicates.
In folding box
Material

polyester fabric

Size

68 x 80 cm

Color

brown

VE

1
Directions for use
Polyester. Washable at 30°C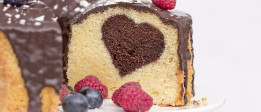 Discover our 2018 novelties! You will find a broad range of creative, colourful, original and practical products and - a particular delight - our new "We love baking" series of baking moulds.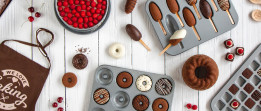 Rediscover your love of baking with our new series "We love baking". The series offers durable high quality baking moulds for every occasion and every appetite.