Description
Downloads (2)
Contributions (1)
For cutting out baked dough and firm creams for pralines, tea cakes or petits fours. Enjoy creating!
The cookie cutter is made of stainless steel and is stainless, dishwasher-proof and food-safe. The cutter is spot-welded. You can identify stainless steel due to the polished and shiny surface. Cookie cutters made of stainless steel can not only be used for cutting out dough, but also in the decorative and creative do-it-yourself and hobby field for modelling clay and salt dough or for felt work and candle and soap manufactury.
Material

stainless steel

Size

ø 4 cm / H 3 cm

Surface

glossy

VE

10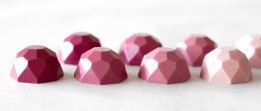 Learn everything you need to know on pralines and chocolate decorations from STÄDTER experts.