Description
Information
Downloads (2)
Contributions (1)
In dough rising baskets, also called bannetons or fermentation baskets, the dough has time to ferment and lift while keeping its form, which gives perfect baking results.
Our dough rising baskets are made from natural materials and can thus vary in form and size. Clean with a dry brush after use, do not clean with water.
With recipe and instruction
Material

rattan

Size

36 x 7,5 cm / H 4,5 cm

capacity

600 g

VE

1
Directions for use
Not suitable for baking.
Befor using dust it with flour.
To clean the basket, drily brush it. Do not clean it under running water.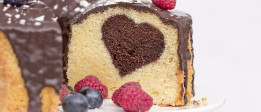 Discover our 2018 novelties! You will find a broad range of creative, colourful, original and practical products and - a particular delight - our new "We love baking" series of baking moulds.