Description
Information
Downloads (2)
Contributions (1)
Recipes (2)
Our cream stabilizer makes it possible to create all the cream tortes and cream desserts you can imagine! If with addition of fruit juice, wine, champaign, liqueur, buttermilk, compotes, fruit puree, whole fruits or nuts – whatever your heart desires: it will work out well. The preparation is super easy! Mix the cream stabilizer with water, fruit juice etc. and fold in the whipped cream (approx. 500 ml) - that's it! No gelatine lumps and always the perfect stability. This is the fastest way to wonderful and delicious cream tortes. It is also a perfect basis for fluffy and creamy desserts: Just exchange the cream for yoghurt or curd and decorate it with fresh fruits – that's it!
Our cream stabilizers contain natural flavourings and beef gelatine.
Sealed plastic container in folding box. With instructions and recipe suggestions. The item is excluded from the exchange.
Material

powder

capacity

125 g

VE

1
Directions for use
Whip 500 g unsweetened cream until stiff peaks form and set aside in refrigerator, then first stir 125 g STÄDTER cream stabiliser with 100 ml water (approx. 20°C) and then gradually fold in the whipped cream.

Tip: you can quickly and easily create desserts with STÄDTER cream stabiliser. Simply substitute a portion of the cream with yoghurt, quark or sour cream.

Store in a cool dark place! (Not in the refrigerator)
Ingredients
Sugar; glucose; gelatine (bovine); wild berry fruit powder (equiv. to 10 % fruit); acidifier: citric acid (E330); natural aroma; elderberries (equiv. to 11.4 % elderberries); cranberry pieces (equiv. to 7.14 % cranberries); raspberry pieces (equiv. to 5,1 % raspberries); colouring fruit and plant extracts; salt

May contain traces of gluten grains, egg, soy, milk/dairy products, (lactose) and nuts.
Nutritional table
| | |
| --- | --- |
| Nutricional value per | 100 g |
| Physiological energy value | 1631 kJ / 384 kcal |
| Fat | 0.19 g |
| hereof saturated fatty acids | 0.03 g |
| Carbohydrates | 86 g |
| hereof sugar | 84 g |
| Fibres | 0.72 g |
| Protein | 8.2 g |
| Salt | 0.17 g |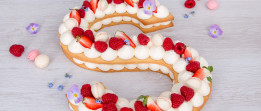 Discover our versatile cream stiffeners: The quick way to deliciously light cream pies!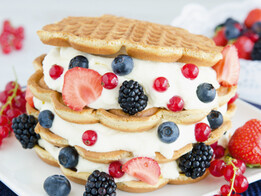 for 10 delicious tartlets